Live Ancient Times Today Fishing Charters Whale Watching Wildlife Watching
AHOUSAT, BC Traditional Canoeing Lodgings Hiking Visits with Artists TOFINO, BC


| | |
| --- | --- |
| JOIN US TO LIVE ANCIENT TIMES....TODAY Aboriginal Activities....Friends, Family and Storytelling . . . . | |
Experience our old ways today including stories with elders, fishing, seafood gathering, traditional canoeing, BBQ salmon on klupchiise, talks with artists in their home, whale watching, wildlife viewing, hiking the wildside and sleeping with the eagles.......and much much more.

Pam invites you to ask about how we became part of the Ahousaht and local nautical history….155 years in the making. We look forward to a sharing of experiences, culture, foods and stories that will live on for years…..

Experience

Our First Nations culture, our home and what we do today

What it means to be Ahousaht today and in the past....live this with us.

How we have fun, the games we play and our enjoyment of village life.
How Ahousahts blend contemporary progress and the teachings of our elders?
Our Aboriginal foods, our language, our ceremonies, our places of significance and our teachings?


Exchange and Enjoy

traditional Aboriginal foods: suuha, puui, qwaaqmiis, hiicin, chiton, tsstuup, mowacht, and many others
stories with First Nations elders....listen for stories of merit, stories of challenge, stories of conquest, stories of pride, stories of inheritance.....and stories of legend.
Travel through time with us to experience, in some small way, 1000s of years of history and legends

Gather

harvest chiton from the ocean reefs....the way Ahousahts have done for 1000s of years- step off the canoe, step onto the reef, look around you nothing but ocean
fish for the tyee aboard the MV Eagle Spirit, a 24' Striper built for the seas of the west coast.
dive for tsstuup (sea urchin) and share our catch with our local First Nations elders

Take home memories and gifts you will share for years . . . . SEE YOU SOON!Explore

the Ahousaht Hahoolthee for:

spiritual connections – since time immemorial, the ancestors of today's Ahousaht continue to remind us of isaak and hisuk sta walk and what it means to live with respect and the understanding of how we are all connected
sights of significance – listen to the words, feel the emotions, live the ancient times....you to will experience our life
eagles, whales, bears and other local wildlife
First Nations art and songs while engaging the actual artist and singer
other local happenings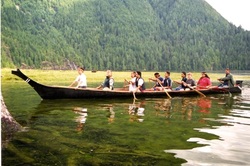 TRADITIONAL CANOEING
We provide an intimate experience which brings you into direct contact with the living history of my family and my people, Ahousaht. Ahousaht is a tribe of the Nuuchahnulth tribal group and have inhabited the traditional territories of our Hawiih since time immemorial. We are the rightful owners of the lands and oceans within what is known as Clayoquot Sound, a Unesco Biosphere. The intimacy we talk about is one between your group of four adults or two adults and four children, and our family....we are inviting you into our actual home. We will experience the wildside of the west coast of Vancouver Island together, so please be prepared.
Our experience together begins when we pick you up at your hotel in Tofino,BC or Ucluelet, BC or at first street dock in Tofino, BC. We always tailor the experiences we offer to the interests of our new friends, and thus the following seven hour experience might represent a typical canoe:
We will begin our journey from first street dock in Tofino, BC with a traditional introduction and a review of safety and this tour's planned experiences......
We will depart from Tofino on board the MV Eagle Spirit, a 24' Seaswirl Striper built for the rigors of the great west coast.

History tour on board the MV Eagle Spirit en-route to our home at Moyehai in Ahousat, BC
A brief walking tour through what was the old village of Ahousat
A paddle to Hystuup Reef located in the Pacific Ocean
Disembark from the canoe in order to harvest hystuup from an ocean reef or fish for tyee (the old way)
Return paddle to the Ahousat welcome beach
Salmon BBQ Lunch with our family at Moyehai, our home and a sharing of the hystuup harvest with local elders
Return tour to Tofino, BC from Ahousat, BC
Drop you off at your hotel
Snacks and drinks provided while we share our experiences
---


FISHING CHARTERS
WHALE WATCHING
WILDLIFE VIEWING

All our guides are Ahousaht, owner-operators of their vessels and will endeavour to share an experience with you which is real, tranquil and more than you could have imagined. You are travelling in the traditional territory (hahoolthee) of the people of Ahousat. Who would know better then the people who have always lived and fished these lands and waters.

So, contact us, email us, phone us.....See You Soon!

Click to Contact Us....