Live Ancient Times Today Fishing Charters Whale Watching Wildlife Watching
AHOUSAT, BC Traditional Canoeing Lodgings Hiking Visits with Artists TOFINO, BC


ABORIGINAL EXPERIENCES and TOURS
The Ahousaht Experience. . . .
make us your vacation in Canada. . . .

Live Ancient Times....Today!
Experience our old ways today including stories with elders, fishing, seafood gathering, traditional canoeing, BBQ salmon on klupchiise, talks with artists in their home, whale watching, wildlife viewing, hiking the wildside and sleeping with the eagles.......and much much more.
Join us for an experience that will last for a lifetime . . . .we will arrange to pick you up at your hotel in Tofino, BC, Ucluelet, BC or at the Inn on Long Lake in Nanaimo, BC, and return you at the end of our wonderful day together....or often you will find us at the end of the first street dock in Tofino, BC.
Experience our Ahousaht culture, our home and what we do today.
Exchange stories and enjoy traditional Aboriginal foods; talks with elders, artists and singers.
Gather seafood, harvest chiton from the reefs the First Nations (Ahousaht) way, and

Fish for the tyee.
Explore the Ahousaht Hahoolthee for spiritual connections, eagles, whales and other local happenings in the First Nations traditional territory of the Ahousaht.
More than we could have imagined....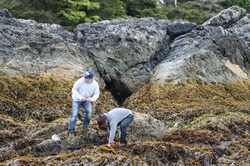 On a recent trip to Vancouver, my brother and I decided to fulfill a lifelong ambition and visit a first nation's tribe. Through careful planning and a constructive email exchange we arranged a day with Spirit Eagle Experiences. Jerry was conscious to tailor the day to our exact specifications and needs. We were greeted at our hotel by Jerry and his son who explained their Aboriginal names. We felt at ease immediately and it set the mood for the day. Our boat trip was exceptional. Home made food and drink was readily available and Jerry and his son were knowledgeable and sociable guides. The wildlife and landscape was stunning and the beautiful isolation made it feel unique and a long way from the average tourist trails. Having seen golden eagles, bald eagles, tufted puffins, sea otters and a very special encounter with some playful orcas we felt very privileged. We helped harvest some traditional seafood from the rocks which the Ahousat know as 'hystuup', this was a little challenging but gave us the opportunity to see the landscape from a different viewpoint.

After some successful salmon fishing we were taken to meet Jerry's wife Pam, herself a village elder. We were introduced to members of the village, one of which was an internationally renowned artist who showed us some of his latest work and welcomed us into his home. We shared a traditional lunch with Jerry's family and learnt about their history and traditions, and some of Pam's plans for the village.

In keeping with rest of the day, the warmth of their hospitality made us feel at ease and part of their family. The day ended all too soon and we were genuinely saddened when we parted with Jerry at the airport.

If you are looking for a structured tourist trip to the region then Spirit Eagle is probably not for you. The village is a living village not a museum so as in any village you never know what might be going on any given day. However if you want a genuine insight into the culture and modern lives of the first nation people, then we cannot recommend strongly enough seeing it through the eyes of Jerry and his family.

Jason & Ross Quirk June 2013


---
New Friends

A most enjoyable day with new friends from England, Scotland and Virginia. We re-lived shared history from 1864, viewed photos of the ancients and talked about the future. A great, full day of exchanging stories.

Starting with picking Jason and Hartley up at the Tin Wis Resort at 6:00am to our return for their departure on Orca Airways at 4:15pm or disembarking from first street dock with Garrett and his son Jordan and returning at 9pm the day was full of new experiences, lasting gifts and moments for reflection.
Come to our home on the west coast of Vancouver Island: Ahousat, BC is one of the fourteen Nuu Chah Nulth tribes. The Ahousaht Hahoolthee (traditional territory) includes Tofino, BC; Clayoqout Sound....a Unesco Biosphere; and, north to Hot Springs Cove, BC.